AS MORE MILLENNIALS HAVE CHILDREN, THEY'RE EMBARKING ON CAMPING ADVENTURES IN THE GREAT OUTDOORS AS FAMILIES
Camping has enjoyed significant revenue growth over the last several years, largely thanks to millennials.
Total wholesale camping equipment sales rose above $3B in 2020, up from less than $2B in 2013. Also in 2020, nearly 94.5M American households went camping — a new high.
Kampground of America an association of almost 500 North American private campgrounds, says the industry's "aggressive growth" is largely attributable to an influx of younger campers, who are camping in larger numbers and more often. In 2020, 37% of total reported campers were millennials — 6 percentage points higher than millennials' representation in the total US population, according to KOA's North American Camping Report.
More than 10M households went camping for the very first time in 2020, accounting for 21% of all campers — a rate 5x higher than 2019. Millennials are strongly represented in this cohort, with nearly 60% of first-time campers under the age of 40.
In addition, recreational vehicle (RV) ownership has risen significantly among millennial campers. In 2019, 57% of millennial campers surveyed reported owning an RV, a figure that increased to 70% in 2020.
Part of millennials' enthusiasm for camping springs from the fact that many of them are entering their prime spending years and starting families of their own. Over 1M millennial women are becoming mothers every year, meaning Gen Y now makes up the majority of annual births in the US, according to the National Center for Health Statistics.
These shifts are creating a need for budget-friendly family recreational activities. 50% of existing millennial campers say that having children and increased spending power has made them want to camp more often. 64% of families with children intend to take more camping trips in 2021, and similar sentiments are driving interest in RV ownership, suggesting a lasting upward trend in outdoor family recreation.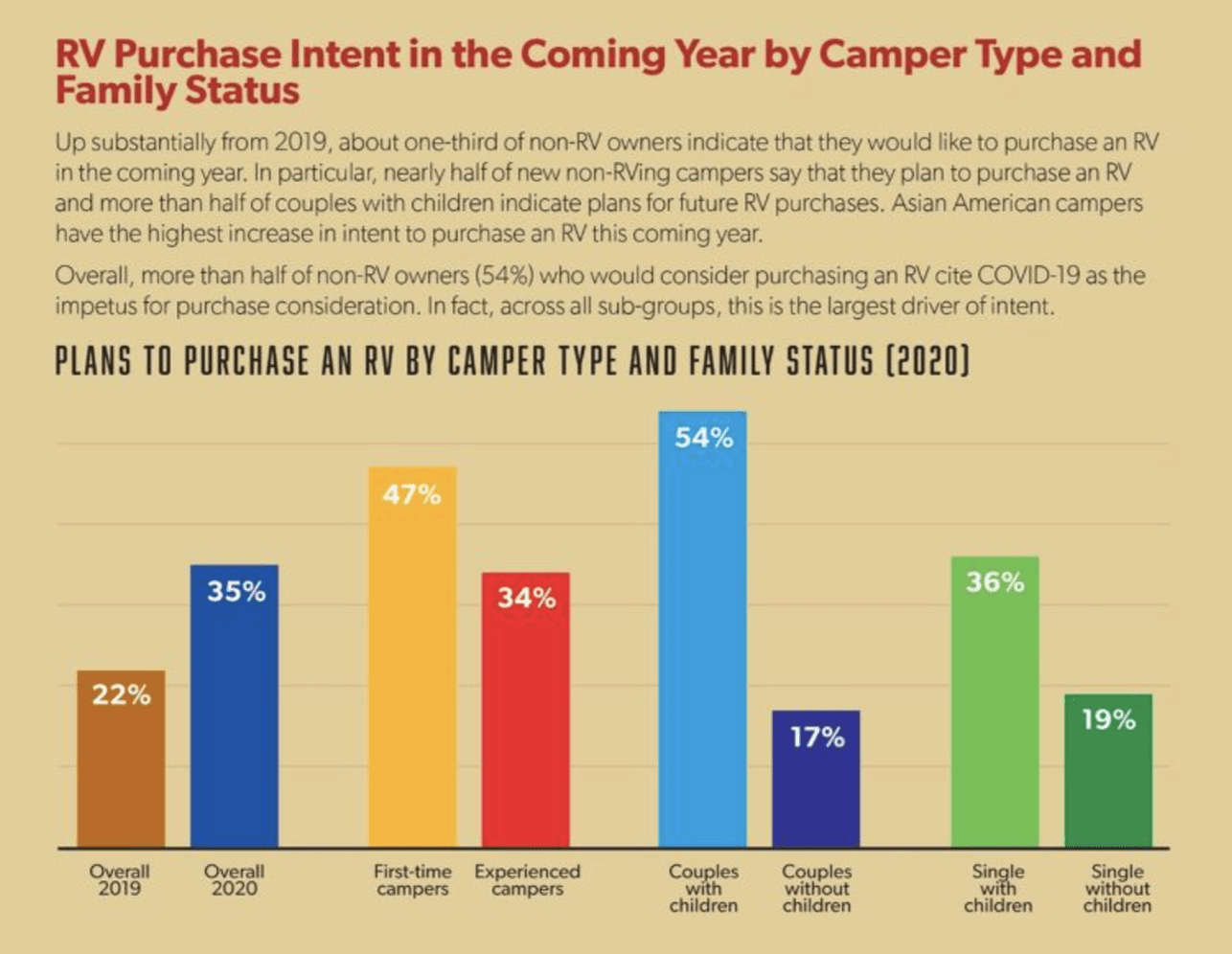 Source: Kampgrounds of America
Another force driving the growth of camping among millennials is the popularization of new accompanying experiences that offer greater comfort and amenities. These can help mitigate challenges like finding a campsite, dealing with bugs, and safety. They can also make a campsite more family-friendly, with additions like basketball courts, themed weekends, satellite TV, and full-featured bathrooms. To this end, "glamping," a term encompassing more upscale elements than the traditional camping trip, is on the rise, particularly with first-time campers who may be hesitant about the traditional camping experience.
Finally, technology is helping millennials learn more about camping and find camping experiences.
Virtually all campers report bringing some kind of tech device with them camping, primarily in case of emergencies or to research safety issues. First-time campers and parents are the most likely to base a camping trip decision on the availability of technology, with parents being especially sensitive to amenities such as Wi-Fi, and the provision of such services has a substantial impact on the length of campers' stays.
Online platforms like Hipicamp and Campsy have emerged to help campers book unique lodging experiences like yurts, treehouses, and caves. Hipcamp, which has been described as "the Airbnb of the outdoors," raised a $57M Series C round in January 2021 at a valuation of $300M, more than double its valuation in 2019.
Social media is also helping campers discover new places to visit, then share their experiences with others: 30% of millennials say that they have picked a camping spot after seeing someone else go there.
New technology, the rise of high-end camping, and millennials' emerging roles as parents and full-fledged earners are changing camping. Once a niche form of relatively inaccessible outdoor recreation, camping now more closely resembles an alternative travel industry, with a range of lodging and experience options. Most importantly, it is an even more kid- and family-friendly activity than it once was — essential for the generation that now makes up the majority of new parents in the US.